Here's a timely follow-up to
my last post
:
I'm at
this year's FAIR conference
, and Jed Woodworth just gave a presentation about
Saints
volume 3. Woodworth is a historian and writer in the Church History Department, and he's managing historian of
Saints
,
the Church's multi-volume history
that Jonathan Neville has done his level best to criticize it for presenting a "
false historical narrative
."
Except for the portions in quotations marks, the following is my paraphrase of Woodworth's remarks. (I'm looking forward to a recording of the presentation becoming available so I can get an exact transcript.)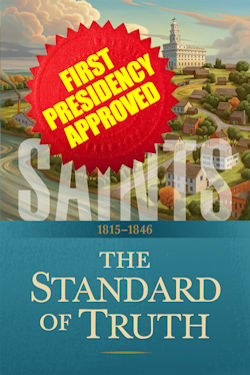 Woodworth said, "We have learned that President Nelson is a footnote-reader" and will correct the footnotes in draft manuscripts of
Saints
that he reviews.
He also said that the First Presidency and other apostles "read every word" of
Saints
before the volumes are published. President Nelson even once corrected a place in the manuscript that was missing the middle initial in a person's name.
Woodworth's comments show that the Brethren are concerned about
exacting
attention to minute detail, something that's very odd for a history that supposedly "[doesn't] present an accurate historical narrative," as critic
Jonathan Neville has claimed
.
—Peter Pan