It's no secret that Jonathan Neville has serious problems with
Saints
, the Church-published, multi-volume history of The Church of Jesus Christ of Latter-day Saints. Neville maintains an entire blog called
Saints Review
that he uses to criticize what he considers to be its "censored" version of Church history.
For example, concerning
Saints
, Neville has written:
"[Accepting the history in Saints] wouldn't be a problem if the editors had decided to accurately present the historical events from the perspective of the people involved; i.e., if they had presented an accurate historical narrative. Instead, they chose to promote modern ideas about Cumorah and the translation of the Book of Mormon." (September 25, 2021)
"The Saints books, especially volume 1, created a false historical narrative present (meaning, how did historical figures think and act in their day) to accommodate M2C and SITH." (August 12, 2021)
"The Saints books…are anonymous. We don't know who wrote or edited them, we don't have access to editorial decisions, and despite the numerous footnotes, readers can't tell what was omitted or spun unless they have extensive background in the source materials." (May 17, 2021)
Neville is, of course, entitled to his opinion, but that last statement from him is not even factually accurate: Jed Woodworth is the Managing Historian for the Saints project, and Scott Hales is also an editor. These facts are easily discovered with
a simple Google search
, which Neville apparently didn't even attempt.
In a podcast produced by the Church about
Saints
volume 2 and
published to the Gospel Library
, Jed Woodworth had this to say about how the books have been produced:
My main duty is to ensure that the history [published in Saints] is accurate, to make sure that our writing measures up to the highest standards, [and] that we're source-accurate. And I also incorporate feedback from a number of reviewers—external reviewers, general authority reviewers, including the First Presidency.
(
The Saints Podcast
, season 2, episode 1, "
Gather Up a Company
," timestamp 0:59–1:19; emphasis added.)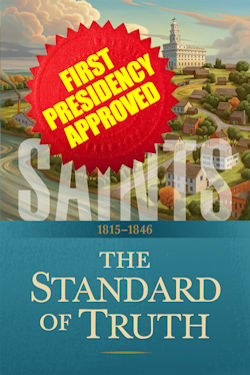 So, contrary to what Jonathan Neville has been telling his readers
for almost three years
, the editors of
Saints
have
"decided to accurately present…an accurate historical narrative." Not only that, but the the manuscripts for
Saints
have been reviewed by general authorities,
including members of the First Presidency
. The First Presidency also
wrote a foreword to the first volume
, in which they encouraged "all to read the book and make use of the supplementary material available online" and expressed their hope "that this volume will enlarge your understanding of the past, strengthen your faith, and help you make and keep the covenants that lead to exaltation and eternal life."
The raises an important question:
Whom are we to believe? The First Presidency of The Church of Jesus Christ of Latter-day Saints or Jonathan Neville
,
conspiracy theorist
,
ark-steadier
, and
critic of the Church
?
—Peter Pan