Jonathan Neville has no qualms about openly criticizing official publications of The Church of Jesus Christ of Latter-day Saints: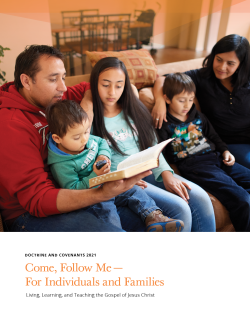 To all of the above, we can add Neville's repeated criticism of the
Come, Follow Me
curriculum.
He has asserted
that these materials "are not doctrine, they are subject to change at any time without notice, and even the Brethren don't always know what they contain before they are published." (Neville seemingly believes that
the First Presidency are dupes
who are "asleep at the wheel" and allowing apostate teachings to be published by the Church.)
On February 24, 2021, Neville added to all the above
another blog post
in which he claimed that the
2021 Come, Follow Me manual
is "misleading" the Saints and shouldn't be trusted:
A lot of what we think is a difference in opinions is really a difference in knowledge. People think their opinions are based on fact, but that's usually a delusion—especially when they don't have all the facts.

And, as much as we wish it was not the case, we are not getting all the facts from current correlated Church history.

The Come[,] Follow Me 2021 manual is the latest example, but that's because it is correlated with the Saints book.

In a way, this doesn't matter. It's funny, even, that our historians think they can mislead us this easily. Every member of the Church has responsibility to study these things and reach our own conclusions. Delegating our study to our historians, and then believing what they tell us, is a colossal mistake.

True, we should be able to trust them. But they have an agenda different from ours.
According to Neville, Church scholars and Church employees
think
they know the facts, but they've been deluded. Neville, however, has the facts and is not deluded.
Even more disturbing, though, is Neville's assertion that "our historians think they can mislead us this easily." In other words,
he's arguing that historians employed by the Church are wilfully and purposely trying to "mislead" the Saints because "they have an agenda [that is] different from ours."
Here again we see Neville flirting with apostasy. The
General Handbook
of the Church
defines apostasy
as "repeatedly acting in clear and deliberate public opposition to the Church, its doctrine, its policies, or its leaders." If publicly and repeatedly criticizing Church leaders, Church employees, and Church publications in the manner Neville has been doing for years now
isn't
apostasy, then what is it?
—Peter Pan