For years Rodney Meldrum and the FIRM Foundation he operates have promoted so-called "energy healing." Here are just a few examples:
This advertisement was in the PDF program for Meldrum's
April 2017 Book of Mormon Expo
: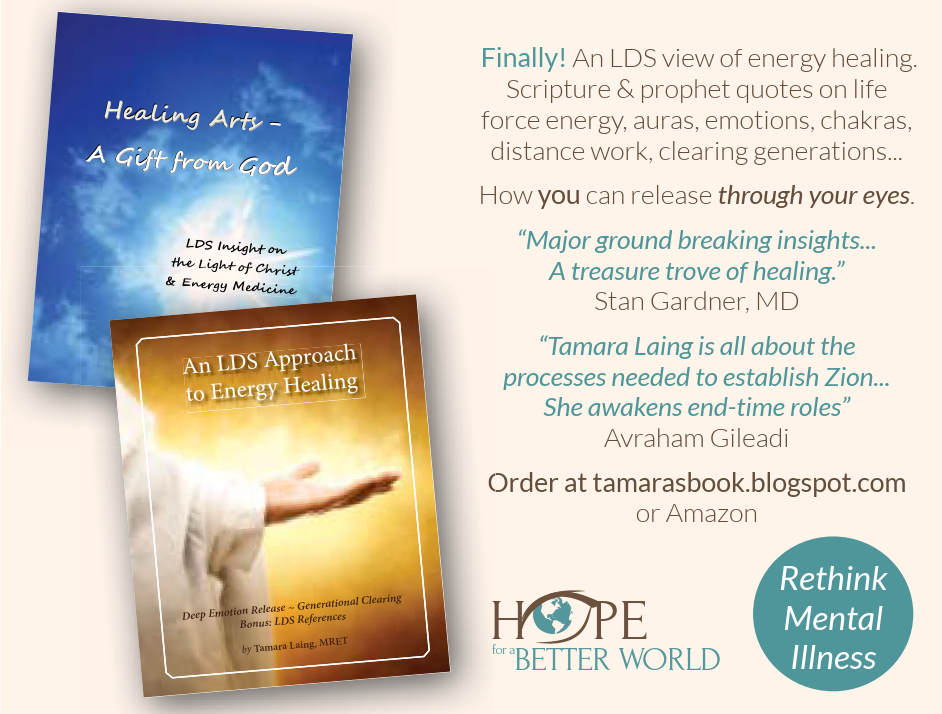 Tamara Laing, whose book was promoted in that advertisement, gave presentations at Meldrum's Book of Mormon Expo in April 2019 (
PDF program
,
video clip
) and in September 2020 (
speaker biography
). In
this video presentation
, Laing purports to answer questions like "Do prophets speak about life force energy?" and "Are auras and chakras in the Bible?" (1:06).
Other FIRM Foundation expos have featured Angie Christensen, a "certified neurofeedback and energy healer" (
April 2017 PDF program
). Meldrum's podcast recently featured Lori Bean Henderson, a "certified energy healing practitioner and nutrition specialist" (
December 2020
).
The FAQ for the Joseph Smith Foundation, which is closely connected to Meldrum, includes an answer to the question "What have LDS Church [sic] leaders taught concerning Christ-centered energy healing?"
[
Please see Anne's comment, below, clarifying this. — Peter
]
Like most of the activities connected to Rod Meldrum, energy healing is big business.
KUTV Salt Lake City reported
in 2016 that Latter-day Saint practitioners of "energy healing" charge as much as $90 per hour. In their report, KUTV quoted Church spokesman Eric Hawkins, who said, "We urge Church members to be cautious about participating in any group that promises—in exchange for money—miraculous healings or that claims to have special methods for accessing healing power outside of properly ordained priesthood holders."
Yesterday (December 18, 2020), Church leaders came out more explictly and forcefully against "energy healing." The
General Handbook
published by the Church that gives guidance to leaders and members now includes the following under the section "Medical and Health Policies":
Members should not use or promote medical or health practices that are ethically, spiritually, or legally questionable. Those who have health problems should consult with competent medical professionals who are licensed in the areas where they practice.

In addition to seeking competent medical help, members of the Church are encouraged to follow the scriptural injunction in James 5:14 to "call for the elders of the church; and let them pray over him, anointing him with oil in the name of the Lord." Priesthood blessings of healing are given by those who hold the necessary priesthood office. They are given when requested and at no charge (see 18.13).

Church members are discouraged from seeking miraculous or supernatural healing from an individual or group that claims to have special methods for accessing healing power outside of prayer and properly performed priesthood blessings. These practices are often referred to as "energy healing." Other names are also used. Such promises for healing are often given in exchange for money.

("Medical and Health Care," 38.7.8)
The Church's
December 18th news release
about the updated manual also mentioned this policy.
This is yet another example of how the Heartland movement is at odds with established doctrine and policy of The Church of Jesus Christ of Latter-day Saints. Rodney Meldrum and other Heartlanders promote fringe theories of questionable legitimacy that also happen to be quite profitable. This is not surprising, for Heartlanderism is, at its core, a moneymaking operation that preys on gullible and uninformed Latter-day Saints.
—Peter Pan