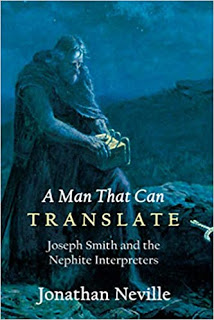 Jonathan Neville's 2019 book
A Man that Can Translate: Joseph Smith and the Nephite Interpreters
(which was revised and updated in 2021) argues that Joseph Smith did not use a seer stone to translate the Book of Mormon, that Joseph used exclusively the Nephite interpreters to accomplish the translation, and that the plethora of firsthand witnesses who saw Joseph using a seer stone to translate were mistaken because Joseph only did so as a "demonstration" of how the translation process worked.
Today,
Interpreter: A Journal of Latter-day Saint Faith and Scholarship
published
Spencer Kraus
's sixty-two-page critical review of Neville's book and his theories under the title "
An Unfortunate Approach to Joseph Smith's Translation of Ancient Scripture
." From the abstract:
[Jonathan] Neville has long argued that Joseph Smith did not use a seer stone during the translation of the Book of Mormon, and he has more recently expanded his historical revisionism to dismiss the multitude of historical sources that include the use of a seer stone. Neville's "Demonstration Hypothesis" is explored in A Man That Can Translate, arguing that Joseph recited a memorized text from Isaiah rather than translate Isaiah from the Book of Mormon record. This hypothesis, meant to redefine how Joseph Smith used a seer stone during the translation of the Book of Mormon, however, fails to deal with the historical record seriously or faithfully. Neville, in a purported effort to save Joseph Smith's character, ironically describes Joseph as a liar, reinvigorating old anti-Latter-day Saint claims that Joseph simply recited a memorized text, even to the point that Neville defends hostile sources while targeting Church-published histories and publications. He further attacks the witnesses of the translation in an effort to discredit their testimonies regarding the seer stone, and repeatedly misrepresents these sources. Coming from a Latter-day Saint, such claims are troubling and demand a response.
As someone who has long been disturbed by and disagreed with Neville's
"SITH" theories
, I warmly recommend Kraus's review to all my readers.
—Peter Pan